Beschreibung
Dieses Plugin stellt die ein Sidebar Widget zur Verfügung, um deine beliebtesten Artikel darzustellen.
Es benötigt ein Clicky Konto, da es die Clicky API nutzt um die Beliebtheit festzustellen.
Unterstützt alle öffentlichen Post Types, per default: Artikel, Seiten und Mediathek.
Description
This Plugin provides you with a sidebar widget to display your most popular posts.
It requires a Clicky account as it uses the Clicky API to determine popularity.
Supports all public post types, per default: posts, pages and attachments.
Übersetzungen
Sobald ich neue Übersetzungen erhalte, werde ich das Plugin gerne damit updaten!
Aktuell verfügbar auf:
Installation
Entpacke den Ordner in das /wp-content/plugins/ Verzeichnis
Aktiviere das Plugin im 'Plugins' Menu in WordPress
Stelle das Widget im 'Widgets' Menu ein
FAQs
Noch keine gestellt.
Screenshots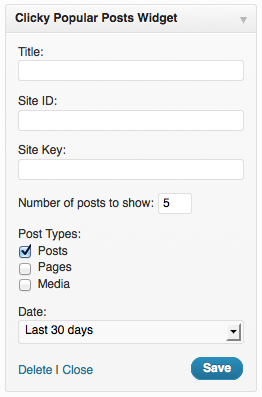 Changelog
1.1
Widget Ausgabe wird nun gecached.
Deinstallations-Logik hinzugefügt (Cache wird bei Deinstallation gelöscht)
Verbesserte Fehlerbehandlung
readme.txt aktualisiert
1.0
Translations
I will be more than happy to update the plugin with new locales, as soon as I receive them!
Currently available in
Installation
Unzip the folder into the /wp-content/plugins/ directory
Activate the plugin through the 'Plugins' menu in WordPress
Setup the Widget in the 'Widgets' menu in WordPress
Frequently Asked Questions
None asked yet.
Screenshots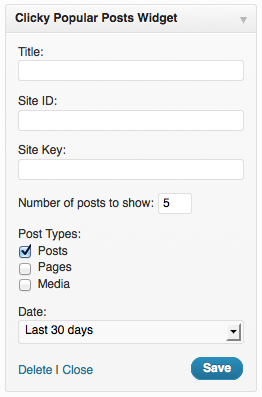 Changelog
1.1
Added layer of caching
Added uninstall logic (delete cache on uninstall)
Improved error handling
Updated readme.txt
1.0